Are you searching the best keyword research tools for SEO?
If you want more organic traffic, you need keyword research tools to find high volume keywords. There are many free and paid keyword research tools available that can help you to find out which keywords best for your web page.
Keywords are one of the most critical and important parts of SEO. We have already discussed the importance of keywords in SEO.
This Best keyword Research Tools helps to find a better keyword for your web pages.
Google Keyword Planner
KWfinder
SEMrush
spyfu
KeywordTool.io
Ubbersuggest
Keyword Everywhere
1. Google Keyword Planner Tools
Google keyword planner tool is one of the most and popular free keyword research tools for SEO. it's free and is directly integrated with Google AdWords. this tool is very easy to use and most important it is free. Visit The Google Keyword Planner Tool.
1: Go to https://adwords.google.co.in/KeywordPlanner
2: Login if you have an account already in keyword planner or signup with your Gmail id.
3: Enter your root keyword or landing page in the search box and click the button "Get Ideas"
4: Now pick your suitable keywords from the list.
2. KWFinder
KWFinder is the slimmer to the Google keyword planner. These tools are mostly used to find out long-tail keyword with a great interface. It shows you trend, search volume, CPC, and level of difficulty in results. KWFinder helps you get the Keyword that will help you drive highly targeted traffic.
1: Go to KWFinder
2: Enter the keyword in the search box.
3: Select the target country you want to focus on.
4: Enter the language.
5: Export the keywords in excel format.
3. SEMrush
This tool provides both short and long-tail keyword research, along with some information on keywords like PPC and organic traffic. Search for keywords that perform well on both Google and Bing.
1: Go to semrush.com
2: Enter the root keyword in the search box.
3: If you are not aware of root keywords, then enter your competitor's website that you believe are doing brilliantly in the internet space.
4: Select the target country you want to focus on.
5: Export the keywords in excel format.
4. SpyFu
SpyFu is a competitor keyword research tools that help you to improve your business's results by understanding how your competition gets theirs. If you want to find out how your competitor is using keywords in their marketing campaign, I suggest trying this tool. In this tool, you can enter your competitor's URL, and SpyFu will pull up all the keyword data on it.
You'll be able to see how many keywords they're ranking for, the estimated number of clicks-per-month the site is getting, and the ratio of organic to paid traffic.
1: Go to spyfu.com
2: Enter the Competitor website in the search box and press enter.
3: See all the detail about your competitor and its keyword.
5. Keyword Tool
Keyword Tool is a great starting point for keyword data mining. The tool uses Google Autocomplete data to create its database of long-tail keyword suggestions. Anyone using Google Keyword Planner for keyword research should also use Keyword Tool.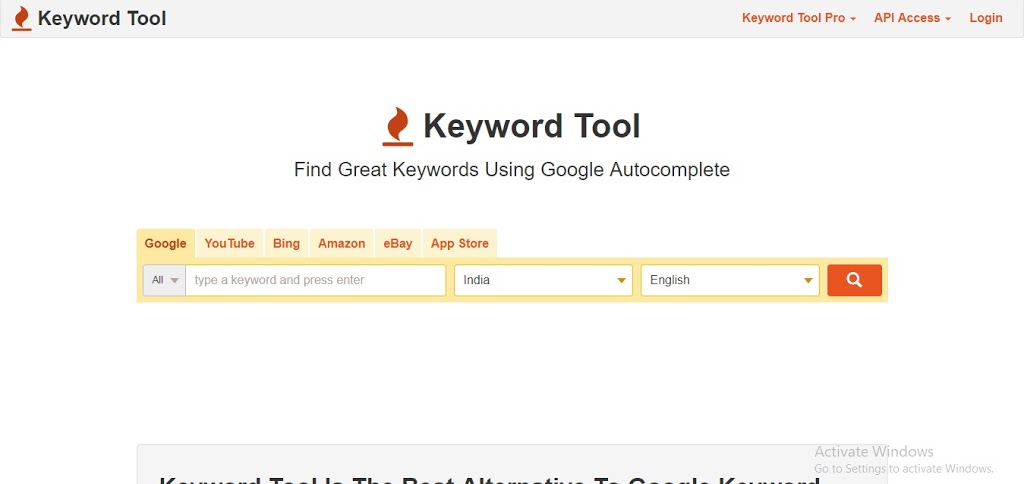 Since Keyword Planner is designed for advertisers, it won't always show lucrative long-tail keywords that Keyword Tool manages to capture. This tool is free for the first 750+ keyword suggestions; sign up for the pro version to see data such as search volume, CPC on AdWords, and competition. It also allows you to export your results to CSV. These tools include some other cool features that it also helps you find long-tail keywords for YouTube, Bing.
1: Go to Keywordtool.io
2: Enter the root keyword in the search box.
3: Select the target country you want to focus on.
4: Export the keywords in excel format.
6. Ubbersuggest
Another useful tool Call Ubersuggest, this other tool is the Best Keyword Research Tools For finding the best Long Tail Keywords for your website or blog, which is created by an Italian SEO guy and one of the best free keyword tools for getting lots of keyword suggestions.


It uses Google suggests, and few other Keyword suggestion services for Keyword suggestions, and you can search for Keyword suggestions based on your target market like Web, news, shopping, video, and more.
7. Keyword Everyware
Keywords Everywhere is a free keyword research tool extension for Chrome and Firefox browser, that collates data from over 15 of the most popular keyword tools, including Ubersuggest, Answer the Public, Google Search, Google Analytics, and Search Console (among others).
Final Words of Keywords Research Tools
If you search any query on Google, Keyword Everyware provides some useful information like Google Search Volume and Cost per Click data. This information helps to choose the right keyword blog for your website or blog.
Did we miss any other unique keyword research tools that you think should be a part of this list? Tell us in the comments!
Also Read:-